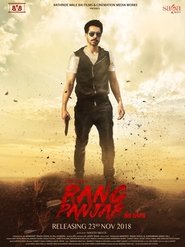 Rang Panjab
It's a story about a guy who stands against the bad things he is seeing happening around him like politics, administration problems, drugs, crime, etc.
Duration: 123 min
Quality: HD
Release: 2018
Server
Language
Quality
Links
720p
Drishtibhram Season-1
720p
Pranaam
HD
Teen Aur Aadha
Teen Aur Aadha
HD
The story of one house in three different eras. Where 50 years ago it was divided between a school and an apartment, in which a young boy struggles with the…
1080p
Agent Sai Srinivasa Athreya
Agent Sai Srinivasa Athreya
1080p
Agent Sai Srinivasa Athreya is an authentic humorous investigative thriller revolving around the adventures of a detective based out of Nellore.
1080p
Ratsasan
Ratsasan
1080p
Constant rejections in his attempts to become a filmmaker and family constraints force Arun to let go of his dream and take up the job of a Police officer.
1080p
Raahu
Raahu
1080p
Bhanu suffers from 'conversion disorder a.k.a hysterical blindness' where she goes temporarily blind under severe stress, in her case triggered upon seeing blood, must fight her enemy who inflicts more…
720p
Setters
Setters
720p
A thriller set in Benares, Jaipur, Mumbai and Delhi, Setters is about a racket profiteering from academic scams. The film follows a cat-and-mouse game between two good friends: one a…
720p
Simran
Simran
720p
A socially criticized girl who is financially cornered, becomes an outlaw to dodge the situation.
HD
Nene Raju Nene Mantri
Nene Raju Nene Mantri
HD
Radha jogendhra journey to the Chief Minister position and what inspired him to go after political power.
HD
Udta Punjab
Udta Punjab
HD
A story that revolves around drug abuse in the affluent north Indian State of Punjab and how the youth there have succumbed to it en-masse resulting in a socio-economic decline.
720p
Phas Gaye Re Obama
Phas Gaye Re Obama
720p
Om Shastri, a recession victim comes to India to sell his ancestors property to clear is debt. On reaching he comes to know that selling the property will make his…
1080p
C++
C++
1080p
A Seat-Edge Suspense Cyber Crime Thriller which exposes the dark side of Internet. It explores the dangerous CRIMES on Cyber Underworld(DeepWeb/DarkNet). Directed by a debutant Director